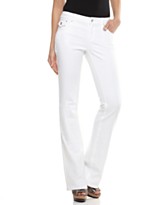 Nothing says summer like a great pair of white jeans that hug your curves just the right way.  I am here to tell you that anyone can wear white jeans – you just have to find the pair that fits your body shape the best.
A general rule of thumb for most body types:  Look for a pair in a boot cut or mild boot cut (nothing that flares out).  You want to line on the side of your leg to go slightly in at the knee and then back out to a boot cut – the hemline at the bottom of the jean should be near the width of your hips!  This line evens out your hips and doesn't make you look like a snow cone.
When wearing white try to stay away from pegged or skinny jeans unless you know your body type works in that style.
Good luck and call me to set up a complimentary consultation!
-Mila, mila@modaimageconsulting.com
---
Image | Brand | Fashion
Mila@modaimageconsulting.com | www.ModaImageConsulting.com
Direct: (615) 218.6831 | Office: (615) 567.6969