Does your outfit alter how you approach and interact with the world?
This study says it does, and I agree.
Hi Friends!
I have always said, if you look good you feel good, and if you feel good, you produce greater results.  In a recent study published in the Journal of Experimental Social Psychology, people were asked to wear doctor's lab coats in turn, they scored higher on attention-related tasks than those who did not wear the lab coats.
"If you wear a white coat that you believe belongs to a doctor, your ability to pay attention increases sharply. But if you wear the same white coat believing it belongs to a painter, you will show no such improvement."

"I love the idea of trying to figure out why, when we put on certain clothes, we might more readily take on a role and how that might affect our basic abilities," said Joshua I. Davis, an assistant professor of psychology at Barnard College and expert on embodied cognition who was not involved with the study.
It has long been known that "clothing affects how other people perceive us as well as how we think about ourselves," Dr. Galinsky said. Other experiments have shown that women who dress in a masculine fashion during a job interview are more likely to be hired, and a teaching assistant who wears formal clothes is perceived as more intelligent than one who dresses more casually.  Clothes invade the body and brain, putting the wearer into a different psychological state, he said.
I am often asked shouldn't WHO I am matter more than how I look?  My answer is always YES!  Other people should focus on your brilliance, your incredible personality, your education, compassion and obvious skills…but we are a visual society and if people do not SEE an image that matches all of your incredible traits, you could be passed over for a well-deserved promotion and so much more.  Your image should share with the world WHO YOU ARE on the inside.  That's what we do at MODA Image Consulting.  All great personal image consulting and Personal Branding truly begins on the inside.  It is that inner strength and magnificence that is reflected in the UNIQUE style we choose and the image we construct…This is what makes MODA different – we care more about 'you,' and how we can enhance your life!
This study has inspired us to put together a few items that we believe are important wardrobe essentials.  These items are the ones you wear often, are worth investing in and will help you to feel confident and empowered on a daily basis even when you aren't feeling confident.  INVESTING WISELY is the key to a wardrobe that helps you feel good.  Success begins in the closet each morning more than anything else, your wardrobe should help you to feel confident.
Fall is here and it is the perfect time to take a look at your wardrobe.  We would love to help you – all consultations are complimentary.  Please call or e-mail for more information!
Warmest,
Mila Grigg
President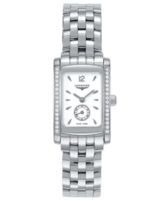 1. Statement Bag (Try a classic shape with a pop of color or a reptile print)
2. Statement Jacket (Leather accents are great for the season)
3. Statement Cardigan (Try a rich burgundy with a jeweled accent)
4. Pencil Skirt (Right above or below the knee is a safe choice)
5. Little Black Dress (Every girl should have at least one)
6. Sheath Dress (Dress it up with heels or down with boots)
7. A GREAT pair of jeans (Dark wash, no whiskers, straight boot cut is typically right on – watch where your pockets sit on your rear)
8. Watch (A watch says I'm responsible and respectful of other's time)
9. Classic pump (Nude is perfect!)
10. White button down shirt (There are options for all shapes and sizes; I promise!)
Next month we will tackle the Top Ten essentials for the men!
All images courtesy of Nordstrom.com
---
Image | Brand | Fashion
info@modaimageconsulting.com | www.ModaImageConsulting.com
Direct: (615) 218.6831 | Office: (615) 567.6969


Consultations are always complimentary!