Dear Clients and Friends,
Spring is here and so are the fantastic spring clothes!  With all of the new styles and trends, it may get a bit overwhelming but if you know the basic dos and don'ts, you will navigate the racks with ease.  The key to remember is that not all new trends are for all of us…the jump suit has made an appearance of late and I don't foresee myself suggesting it to many clients, ha.
You need to know your body type and proportions before you start shopping for new clothing – this will help you to buy items that you will wear.  I am going to give you a few general quick tips on fit' when it comes to pants – pants seem to be the number one mistake women make.
Don't forget to pick up a March copy of At Home Tennessee magazine; I have picked out some fantastic spring accessories you can incorporate into your wardrobes right now!
I have also had many requests for a "Dress for Success" newsletter I will be sending one out at the end of the week.  If I can help you find your personal style, clean out your closet, create a versatile wardrobe, update for spring or to dress for business success – please give me a call!
Happy shopping,
Mila
Tip #1: The most common mistake women make is with their pants.  The best tip I can give you without looking at your body shape is to have pockets on BOTH sides of your rear (Even if this is only a slit for faux pockets).  Regardless of the pant (jeans, slacks, khakis etc) you need to have pockets to balance out your rear end as well as break up the distance from your rear end to the bottom of your butt cheek.  Most of the time I recommend that pockets are not flap' pockets (but it depends, if you have no rear and are tiny it can be a great way to create a faux curve), and your pocket should NEVER be situated on the spot where your rear end meets your leg.  This adds length where we don't need it, and makes it look like our rear ends are droopy never a good thing.
Below are examples of great pocket placement.  The pockets on the jeans are high enough to create lift even when one doesn't exist and the black pants break up the distance from your waist to the bottom of your rear beautifully making it appear smaller.
Tip #2: Unless you are a stick figure, do not wear pants that are pegged in any capacity.  You want the cuff of your pants to be in line with your hips.  If not, your hips look much wider than they are.  The best fit for most body shapes is when the pant comes in along the thighs and then goes into a modern boot cut at the bottom.  The pants below on the left show this fit well, and they almost graze the floor elongating your legs.  The shorter pants on the right chop off the leg, and the pegged look creates a hippy' effect that none of us want regardless of our body size.
Tip #3: Make sure your pants come ALL the way to the bottom of your heel or shoe.  I have pants designated for flats and heels only.  If they don't, you will look completely disproportionate.
Tip #4: I know as soon as the days get warmer, I will begin to see cropped pants.  This always scares me as they can really cut your body apart in negative ways.  Make sure they are closer to your mid-calf, not your ankle.  You don't want people to question if your pants shrunk.  Try to wear a wedge or heeled sandal without any straps around your ankle this will make the line continue all the way down to your toes.  The same pant rules apply…come in at the thighs and knee, and then go into a minor flair.
SALE ITEMS!!!
Jessica Simpson heels. Great with jeans, skirts or capris!  Go to Macys.com.
Orig. $89
Now $62.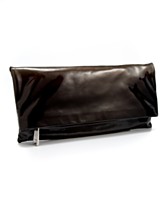 Steve by Steve Madden patent ombre clutch.  Always cute with jeans, dresses and much more!
Orig. $98.00
Now $49.00