January is here, and I know that most of us are welcoming 2011!  Last year was a challenging year for many of us, but a year where our personal resolve to overcome difficulties and challenges is now behind us and we are stronger for it.  My prayer is that America seeks to return to the basic truths that make our country THE GREATEST COUNTRY IN THE WORLD.  We can all have different backgrounds, faiths and goals…but what makes this melting pot of diversity work is our nationwide commitment to truth, honesty and our God given right to be free!
The cold winds of winter will soon lead to the beauty of spring and the warmth of summer.  Do not let the cold days of winter determine your attitude and outlook for 2011.  Enjoy each God given day you have been given and seek to reach your personal and professional goals with a new zeal for life and passion for excellence.  MODA Image Consulting is focused on helping you reach new professional and personal goals at work, at home and in your relationships.  I work in the fashion and image industry; an industry that thrives on how you look and how you want others to look at you.  Here is a basic truth I have learned – clothing will not cure, nor will fashion fix issues of the heart, soul and mind. If you want to make 2011 the best year it can be for you, then begin with a personal self inspection and seek the "real you" that is on the inside. True victory begins when we understand that none of us are perfect and we all have room for personal improvement.
Personally, I love helping people discover how to share WHO THEY ARE with the world around them.  I enjoy turning the inside person into an outside reflection that represents all they are and want to be.  This includes personal branding, professional branding and updating your look to reflect the changes that have taken place in your life.
You can set your mood each day by what you wear.  Choosing colors that excite you, fashion that highlights you and design that delights you is the key!  Make 2011 the year you plan "TO BE."
* To be an example for others by looking your best
*To be a visual burst of energy
* To be excited to get started each day in your closet
*To be empowered because you are unique
*To be confident on the inside and reflect that on the outside
*To be in control of how others see you
*To be a creator of your image! (Do not let others create one for you).
*To be determined and know that it is ok to stand out in the crowd
*TO BE YOU
Sign up for my e-mail program to receive articles and tips that I guarantee will provide added value to your life.  Let us get together and turn your 2011 into all you want the year "TO BE!"  I would love to help you in any way I can!
Warmest,
Mila
---
My closet basics for 2011 are below…These are a few basics that 'most' closets should have! (More basics in my next newsletter!)
A white button down shirt:
My new favorite is called, The Shirt by Rochelle Behrens
I saw her on the Today Show and I was sold.  This is from Rochelle's website, www.theshirt.com. "This white shirt will keep you looking crisp and feeling confident in any weather, thanks to its anti-pucker technology. "When you're looking for a white shirt, many times it doesn't fit across your bust and you're popping out," he says. "It has dual buttons right there in the spots where you need dual buttons."
At $80, The Shirt by Rochelle Behrens comes in five different colors. "It is for all-busted women," he says. "Now you don't have to put tape or safety pins and all this stuff that doesn't work."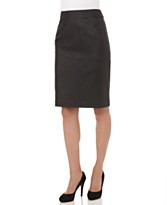 Black Pencil Skirt
This figure-flattering skirt can be paired with countless items in your closet to create an instantly polished look.  This is a seasonless piece that can be worn with beautiful sweaters in the colder months and a silk top and jacket or cardigan in the warmer months.  Skirt length should be right above the knee or right below.
*Fashion don't: Do not pair this with a sweater that has a hood.  Some items of clothing are 'confused' and if they could speak they would tell you they have no idea what they are for.  A pretty sweater wtih a hood should not be worn with a skirt and heels.  (This skirt is from Macys.com; Calvin Klein Skirt, Studded Pencil)
3. Dark wash jeans.  This is an essential.  Jeans should come almost to the floor regardless of the shoe you are wearing.  Use hem tape for your flats, but do not get shorter jeans for shorter shoes and try to wear them with heels!  A great dark wash without any white patches, whiskers or rips are a classic pair that everyone needs.
Donna Karan "Soho" Bootcut jean from Dillards.com.
Shapewear: TC Fine Shapewear
We all need a little bit of shaping and smoothing every once in a while.  This is one of my favorite products on the market for this very thing!  This piece shapes and mildly 'sucks in,' but it doesn't squish the chest area.  Remember when trying it on you need to step into it and then pull it up.  A bit tricky but worth it!
---
Email info@modaimageconsulting.com or call 615.656.4279 for more information about individual or corporate services.